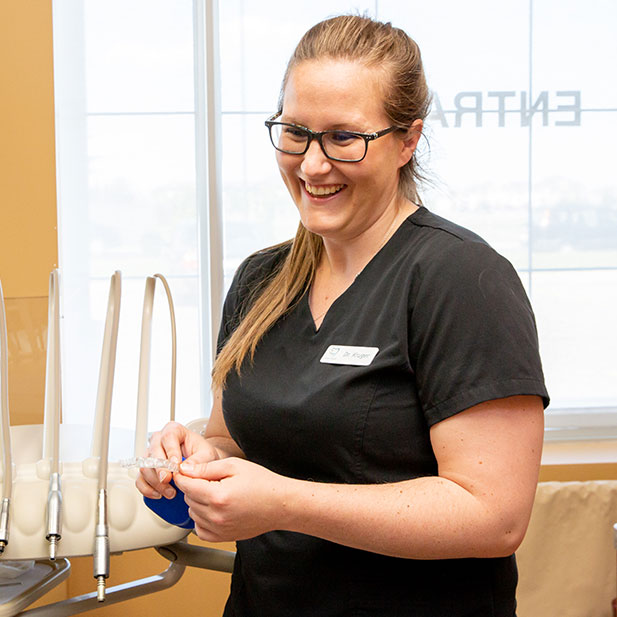 Dr. Kruger
Hi, I'm Dr. Cassi Kruger. I was born and raised here in Calgary. I completed my undergrad in Idaho and Utah while playing collegiate fastball. I am proud that I was then able to pursue my dream of being a dentist at the University of Alberta.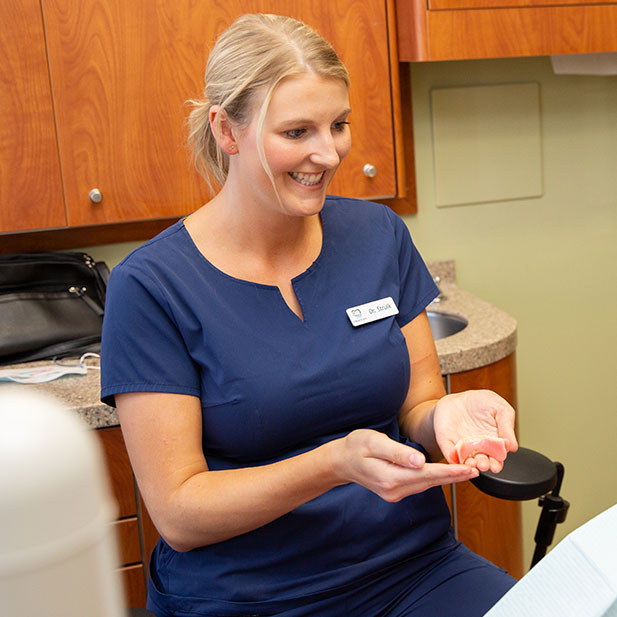 Dr. Struik
Hi, I'm Dr. Marissa Struik. I grew up in a small town just south of Calgary, and I am thrilled to be returning to Southern Alberta to continue my dental career.
Our Administrative Team
Karen - Office Manager
I have been a registered dental assistant for 37 years; working in many aspects of dentistry including: pedodontist, orthodontist, many management positions and everything in between - except be the dentist. A beautiful smile can give a patient confidence and greater self-image, I love giving patients the opportunity to reach their dental dreams. I love the simple things in life; reading, exercising and quiet family time.
Stephanie Frederick - Reception
I have been a part of the Urban Oasis team for many years. I started out helping with sterilization and recently moved to the front as reception. I enjoy interacting with patients each day and meeting new people. I have an Early Childhood Degree and after closing my Preschool of 8 years in June, I am really enjoying learning all the new aspects of dentistry. In my spare time I enjoy horseback riding with my daughter and watching formula one with my husband.
I look forward to growing from all the new challenges and helping you with your dental needs.
Omotola Akerele - Reception
Hi, I am Tola. I am a positive and happy soul who loves making others happy too. As a receptionist, my joy comes from giving each patient a unique and personal experience while at the dental studio. I love to make patients comfortable, ensure their appointments are appropriately scheduled, answer all their questions and in general, ensure the efficient running of the practice.
I enjoy learning new skills, I have taken several Administrative Professional courses as well as customer service courses to enhance my professional experience.
Outside of work, I love creating long lasting memories with my family. I also love to watch movies, write articles and create content for my social media page.
Our Hygiene Team
Gundeep Dhillon - Dental Hygienist
Hi, my name is Gundeep. I graduated from Camosun College's Dental Hygiene Program in 2018. As a Dental Hygienist, I am here to learn your dental history and chief concerns to formulate a Patient centered care plan together with the dental team, while respecting Individual's needs, expectations and priorities. My goal is to provide high-quality care to make a healthy future for you. Please feel free to ask questions. It helps me to form a more individualized care plan and enable you to be involved in your treatment plan. I regularly attend continuing education courses to stay current with new technology and hygiene products. I am proud to be part of this dental team who works together each day to give the best dental care to everyone. In my free time, I enjoy watching Netflix, outdoor activities and spending time with my family and friends. Looking forward to seeing you and promise you will leave happy.
Jessie Cho - Dental Hygienist
I completed my 4 year dental hygiene bachelor degree from University of British Columbia in 2018. I was born in South Korea but grew up in Calgary since I was 7 and returned to this lovely city after my studies. I love meeting new people and getting to know my patients. As a dental hygienist, I think it's crucial to educate my patients so they understand their own oral health. Whether it's that they are doing an amazing job or need pointers as to which area of the mouth to spend some more time on or trying a new dental tool. I am very thorough but at the same time gentle and patient. Outside of work, I love trying new restaurants and all sorts of sports like swimming, badminton, indoor rock climbing, and snowboarding to name a few.
Adrijana Mehinagic - Dental Hygienist & Assistant
I have been in the Dental industry for 15 years now, and have spent 12 of those years happily at Urban Oasis Dental. I love seeing new faces and of course, all of our wonderful returning patients. I love helping patients achieve healthy oral health and beautiful smiles. My life outside of work is all about family. The pure joys of my life are my children, our three little girls and our latest addition, a little boy.
Assistants
Amandeep Kallah - Assistant
I graduated from Fanshawe College, London, ON in June 2016 as an Intra-Oral Phase II Dental Assistant and joined Dr Kruger's team in Nov 2019. I enjoy assisting all dental procedures and strive to make each visit a comfortable experience for patients. I especially enjoy working with children and making them feel like coming to the dentist is a great place to be. Outside of work, I love exploring the beautiful Rocky mountains.