With the holiday season upon us, this month we decide that we should try and attempt to find some alternatives to some Christmas classics. From cookies to candy canes to hot cocoa this holiday season is full of all sort of sweet treats.
---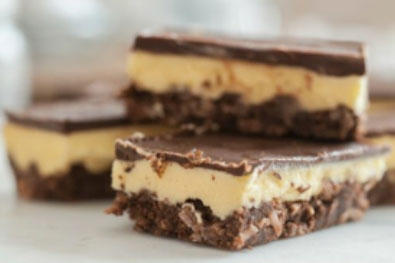 Vegan Nanaimo Bars
This adaptation of the Canadian classic treat not only tastes great but has far less sugar than its traditional counterpart. A healthier gluten free, dairy free twist on a treat that no one can resist.
Recipe curtsy of Dreena Burton
Ingredients
Base:
1 ½ cups pitted dates
½ cup rolled oats
¼ cup cocoa powder
¼ tsp salt
½ tsp vanilla extract
¼ cup tiger nut flour(almond meal can also be used)
¼ cup unsweetened shredded coconut
Middle:
¾ cup coconut butter
¾ cup natural icing sugar see note
3 tbsp non-dairy 'egg nog' or canned coconut milk
½ tsp vanilla extract
¼ tsp turmeric powder
1/8 tsp sea salt
Topping: (see note for version without chocolate chips)
1 cup chunked non-dairy chocolate bar or chocolate chips
2 ½ tbsp regular coconut milk canned, regular, not lite
Instructions
Prepare the Base: In a food processor, add the dates and rolled oats and pulse several times until coming together and slightly crumbly. Then add the Cocoa powder, salt, and vanilla, and processed through until the mixture starts to become sticky. Finally, add the almond meal or tiger not flour and coconut, and process through until the mixture is very sticky and will hold together when pressed with your fingers. Remove mixture from processor and press into a brownie pan (8" x 8") lined with parchment paper. Place in the refrigerator.
Prepare the Middle Layer: For this layer I use my mini-processor, since my processor is 16-cup. If you have a smaller processor that you used for the first layer, go ahead and clean it out to use again for this middle layer. Otherwise, use a mini-processor. Add all ingredients to the processor and pulse/process through until just combined. Try not to over blend as the mixture will heat and become oily. Once combined and smooth, transfer to your brownie pan, spreading evenly over the first layer. Place back in refrigerator.
Top Layer: if making the chocolate bar/chips topping, prepare a hot water bath. To do so, use a small sauce pan and fill with hot water. Place a heatproof one that will fully cover the top of the saucepan and prevent steam from entering the bull. Add the chocolate chips and the coconut milk and set over a low heat. Stir through as the mixture melts together once fully melted together and smooth remove from heat. Pour the chocolate topping over top of your bars, and refrigerate until set.
To serve, simply cut into 16-20 squares/bars and enjoy. Extra bars can be frozen, if they last that long!
---
Festive for the season doesn't need to be hard or unhealthy! If you're not the baking type, here a few fun ideas for making lunch a little more exciting. These can included Snowman String Cheese, Reindeer Celery Stick, Banana Elf's.

---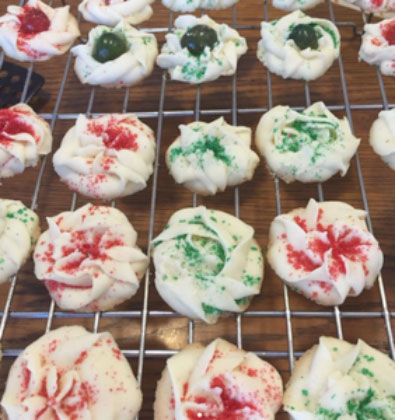 And although there really isn't a health version of shortbread, we`ve included it anyways, as Christmas is never complete without a good cookie to be left out for Santa!
Whipped Shortbread
Ingredients
1 ½ cup flour
½ cup icing sugar
½ cup corn starch
1 cup softened butter
Instructions
Preheat oven to 350˚
Mix all the dry ingredients together in a bowl
Place butter into a bowl or stand mixer, start beating until butter is smooth
Slowly add small amounts of the dry ingredients to mixture until fully combined
Continue mixing ingredients until it is light and fluffy, usually around 5-10 minutes
Place in small balls in an ungreased cookie sheet
Pressed down with a fork
Decorate as desired
Bake for 12 minutes
---
We hope everyone has a fantastic holiday season this year and please, remember to brush and floss after all the treat you will be enjoy this holiday season.
Happy Holidays and Merry Christmas from our family to yours.