Summer has just gotten here, but it's flying by faster than the school year already did. When you think about after school snacks, does the sound of a potato chip bag make you cringe? When it comes to snacks for kids the simplest options don't always seem to be the healthiest, but not anymore!
Here are a few great ideas to keep the kids tummies full, but not at the expense of their health. As they are adjusting to a new routine when they start back to school, you'll often hear the "I'm starving" phenomenon. Ask yourself, if your child is eating the right foods to keep the afterschool pantry raiders at bay.
Healthy snacks can go a long way in the development of a child, especially in a world derived around junk foods. Proteins are the building blocks of foods, they keep you feeling full and keep us away from constantly reaching for the chips or unfavorable snacks for their little tummies throughout the day.
Did you know protein helps cells grow – in turn building muscle, boosting immune systems and even promoting a healthy metabolism.
The age of each child determines how much protein is suggested for a child's diet.
0-12 months: 9.1 grams of protein per day
1-3 years: 13 grams of protein per day
4-8 years: 19 grams of protein per day
9-13 years: 34 grams of protein per day
---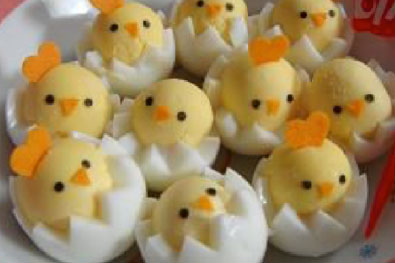 The protein found in eggs is the highest quality of protein found in any food. So why not try these cute hardboiled egg chicks next time the kids need a quick after school snack to hold them over until dinner time, or pop a couple in their lunch as a great between class snack.
---
Although gluten and whole grains may have a place in some snacks; these little bites are a great idea for kids on the Gluten-free or dairy free end of the spectrum without losing the texture and taste of a great snack. These gluten free mini corn dog bites are sure to be a hit!
Off to baseball? Hockey? Or even dance? These little bites will be great to pass out on the car ride to practice and keep the kids tied over until dinner time.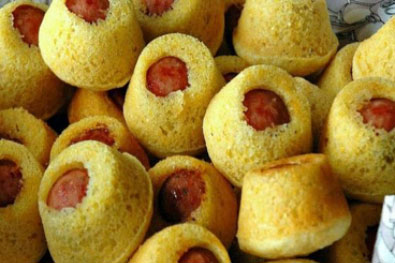 Gluten-Free Mini Corn Dog Bites
4 Hot dogs / Cocktail wieners
1 cup milk or Almond milk, plain unsweetened
2 TBSP Greek yogurt
1 large Egg
1 ½ TSP Baking powder
¼ Cup Sugar or coconut sugar
¾ Cup Cornmeal
¾ Cup Gluten free flour blend
½ TSP Salt
Mix dry ingredients and wet ingredients separately, then combine and mix.
Pour into mini muffin tins and place hot dog piece or cocktail wiener in center.
Bake at 350* until golden brown and toothpick comes out clean.
---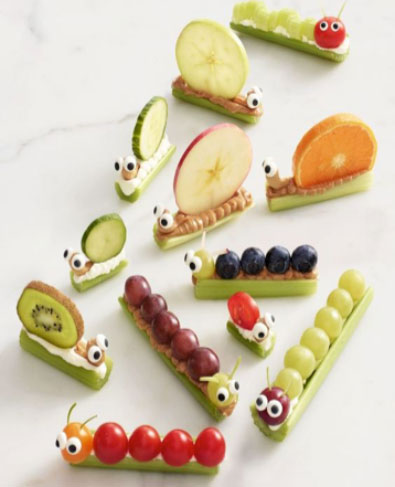 Fruits and vegetables can be a little tricky to get enough of into the little guys but when they look this cute, who wouldn't want to dig in! Just like our mom's used to make, the classic favorite of ants on a log; only cuter and now including snails and caterpillars too. These handy on-the-go snacks can be made with Celery, apples, grapes, kiwis, oranges, raisins, cucumbers, tomatoes and so much more! They can include peanut or almond butter, cream cheese or cheese spread, yogurt and many more; variations are endless but here's a couple great ideas to kick start the kiddos into reaching for some fruits or vegetables that have many more benefits than a bag of chips or candy bar.